It's Awards season 2016!

HBXL are enjoying awards season 2016 having already won a prestigious award and being nominated for several more. Read on to find out what we are celebrating…
Nominations and shortlistings
It's always nice to get some recognition for the work you do and once again we are feeling very happy at HBXL Building Software. We very proud to announce that (so far) we have won the best estimating software 2016 award in the Technological Innovator Awards 2016!
We have also received two shortlistings and one nomination for awards that highlight HBXL's contribution to the construction industry and for being pioneering leaders in the area we operate in. Here's a little bit more about winning the best estimating software 2016 and why we've been entered into the running for each accolade.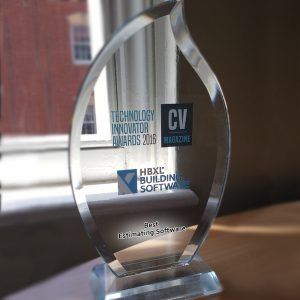 Technological Innovator Award 2016
We couldn't be happier to receive the title of best estimating software 2016 in the Technological Innovation Awards 2016 by Corporate Vision. Winning this award means that HBXL are considered to be the top firm that providing ground-breaking developments in the construction industry and changing the way other businesses operate.
Read the full report here.

Lloyds National Business Awards
HBXL Building Software are also very excited to announce our inclusion in the running for a Lloyds National Business Award 2016 in the category of Vonage Business Enabler of the Year. This means that HBXL products and our top rated support team are allowing builders and developers nationwide to increase their profit, improve their efficiency, win more business and all with less time and effort spent.
Read more about this prestigious award shortlisting here.
Trailblazers
We also are pleased to announce that our very own Adrian Wild has been selected out of over 100 nominations to be featured in the Trailblazers Top 40! This means he is part of a prestigious selection of people who are being recognised for being a pioneering, innovative, disruptor and outstanding leader by Business Leader Magazine. Adrian is clearly thrilled already and said that;
"It is a special feeling to be in the shortlisting for the Trailblazer's Top 40 and to be included in a group of people helping enable SME businesses be the best they can. All the team work very hard on making sure our products are at the forefront of innovation in the industry. I hope we can bring home some more silverware to add to the collection!"
Business Leader Magazine is a publication that promotes business and enterprise in the south west. An independent publishing and media company with a readership of 30,000 per edition. If you're one of these readers have a look for Adrian in the Trailblazers special feature, and if you haven't, seen it take a look at the online version here (He's on page 35!).
25 Construction Applications Transforming Business
We are also very happy to be included in the shortlisting for CIO Applications' '25 Construction Applications Transforming Business' award. CIO Applications is a magazine about business news, real-world case studies, product trends and solutions designed for CIOs or Chief Information Officers and their companies. We'll be featuring as part of an upcoming special edition on construction technology.
UK IT Industry Award – Small Supplier or VAR of the year 2016
We're very happy to announce that we have been shortlisted for yet another award – the Small Supplier or VAR of the year 2016 in the UK IT Industry Awards. It's always nice to get recognition for the hard work you put in! At HBXL Building Software we are proud to produce products that help over 12,000 UK building firms nationwide win more work, return higher profits and all with less effort.
Wish us luck!
We are very proud to be in the running for these awards that really highlight the innovative approach our software range brings to the construction industry and we feel honoured to be recognised for having an influence on the development of the building sphere and it's embracing of modern technological solutions.
If you have not tried our range of revolutionary building software designed specifically for the small to medium sized construction business and would like to give it a go today, follow this link to get a free 14 day trial or give us a call on 0117 9167898.