The snow has defeated just about all of the United Kingdom now. Yet despite the weather we're still able to advise building firms on how to make the most of their business and save time and money, whilst maximizing profit… So if you're snowed in, give us a call on 0117 916 7898 and let's talk estimating software!
Thank goodness for the British sense of humour. Stay wrapped up warm and remember our software can help you get back on track following lost hours.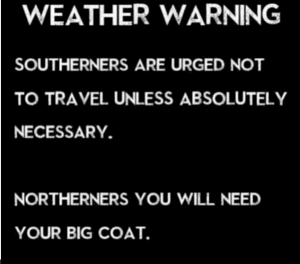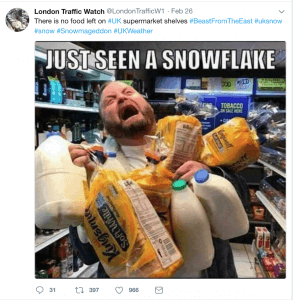 Too cold to lay bricks
A number of construction sites across the UK have ground to a halt due to heavy snow, according to the Federation of Master Builders (FMB).
Sarah McMonagle, Director of External Affairs at the FMB, said: "Heavy snow showers have led to many construction sites across the UK grinding to a halt. Some construction bosses have told their staff to take the rest of the week off and not return to work until Monday. But it's not just the snow that's playing havoc with construction projects – some firms are reporting that the freezing temperatures mean it's too cold to lay bricks. The overall impact of bad weather on construction growth remains to be seen but this situation is concerning given that the FMB's latest research shows that growth among construction SMEs slowed in the final three months of 2017. We hope that the cold weather we have seen this week is just a blip and that all workers will be able to get back on site in coming days."
On the subject of ice, frost and snow, according to the HSE…
To reduce the risk of slips on ice, frost or snow, you need to assess the risk and put in a system to manage it.
Identify the outdoor areas used by pedestrians most likely to be affected by ice, for example: – building entrances, car parks, pedestrian walkways, shortcuts, sloped areas and areas constantly in the shade or wet.
Monitor the temperature, as prevention is key.
You need to take action whenever freezing temperatures are forecast. Keep up to date by visiting a weather service site such as the Met Office or the Highways England .
There are also smart signs on the market, available to buy at low cost, which display warning messages at 50 and below.
Put a procedure in place to prevent an icy surface forming and/or keep pedestrians off the slippery surface;

Use grit (see separate article below for more detail) or similar, on areas prone to be slippery in frosty, icy conditions;
Consider covering walkways e.g. by an arbour high enough for people to walk through, or use an insulating material on smaller areas overnight;
Divert pedestrians to less slippery walkways and barrier off existing ones.

If warning cones are used, remember to remove them once the hazard has passed or they will eventually be ignored.